Activated Learning Part I
Summer 2021 Learning! Register now for a super supportive and fun Level 1 course. First, our cohort will meet for a three-hour session on Aug 19th. Then, you'll head out to implement new practices and we'll follow up with THREE one-hour boosters on September 4, 11, and 25th. Registration for this course will be limited to 20 people for maximum interaction, diversity, stimulation, and learning.
Course fees are $200 CND per person. Two spots will be kept open for participants who can not pay – please send me an email explaining your interest in the content and your need and I will try to accommodate you!   
Aug 19th – 9-Noon;  Sept 4 – 10-11am;  Sept 11 – 10-11am;  Sept 25 – 10-11am
Background on AL
A bit of background on the intervention. While the Activated Learning approach has been extensively researched in Ontario (a school board pilot) and the UK (an entire PhD dissertation), the results have only been published informally so this intervention remains "research based" and not "evidence based." Regardless, it has achieved support among scholars and educators. It was scaled at the Trillium Lakelands District School Board and is slated for large-scale implementation at the York Region District School Board. Research results from the YRDSB AL pilot project were presented as the kickoff workshop at LDAO this year by the Chief Psychologist and principal of Learning Services from the board. As well, a full, peer-reviewed book about the intervention will be published by Guilford Press in 2021. I am co-writing this book with Peg Dawson (Smart but Scattered) and Carol-Anne Bush, and Adele Diamond has written 750 words of "blessings" to be included as a preface to the book. 
Activated Learning Part II Training
Receive small group support to troubleshoot your implementation! Over a series of short (30 min) small group sessions, you'll share challenges, victories, and questions, and receive additional information and resources. These sessions can be booked by clicking "office hours" and signing up for an early morning session. Doing four of these sessions, at least one week apart, will qualify you for Level II AL certification. 
---
Think online training might be too challenging? Take a look at this group of online trainees, below. We just completed a one-hour booster session to discuss whole class self-regulated learning support using the Barriers & Strategies protocol. We had a lively discussion, practiced using the technique, and laughed a lot. It worked really well. Notice how they are all holding up their hands? That's applause in ASL – this training took place at the Sir James Whitney School in Belleville, Ontario and almost every single one of those educators is deaf or hard of hearing. We used ASL translators and had a grand time.
So, uh, what's stopping YOU?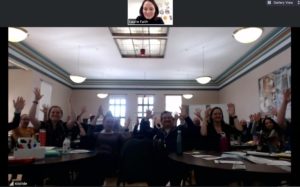 ---
Course materials for Level I training Day 1 can be found here.
Course materials for Level I training Day 2 can be found here.