Activated Learning is not a spiral-bound, scripted curriculum. We help teachers explore new beliefs, acquire new expertise, and change their pedagogy. For this reason, we very rarely work with groups of educators "cold," or at the sole behest of an administrator. We prefer to work with teams of front-liners who really want us there, and administrators who are supportive and eager to learn. We know that our training can only have an impact if it addresses real-time problems, is adaptable, and is supported at all levels of the system over a long period of time. Ask yourself: is Activated Learning right for your team, right now?
Book a Training Inquiry Video Conference
Option 1: Self-Serve
Anyone can download these activities and get working with school staff to build EF-literacy. Combine this with a quick online consult and you're getting a ton of bang for your buck. Online consults are booked by clicking the "Office Hours" button on the landing page and scrolling to the bottom to schedule "Activated Learning Support."
Option 2: Online Training for School Teams
We have begun to provide end-to-end support using a series of four online videoconference meetings. By proceeding this way, you can avoid incurring our travel costs, drastically reduce the need for teacher release time, spread your learning across a more generous and natural amount of time, and put together a more flexible program. Using a ZOOM video link, this experience  includes:
Module 1: EFs – All About Me

After a brief introduction to a few fundamental ideas about executive functioning, you'll explore the way EFs impact your performance both personally and professionally.  This module perfectly compliments Chapter 1 of the book.

Module 2: EFs and Student Behavior

Do you really believe that your students have lagging EFs? It is so easy to assume manipulation, limit testing, and deliberate misbehaviour. This session will help you to put on your EF-lenses and appreciate the ways that your students struggle at school. We'll also tackle the impact of stress on EFs. This module perfectly compliments Chapter 2 of the book.

Module 3: Using Socially Shared Learning Regulation

In this session, we'll discuss how to build, scaffold, and help students compensate for EFs at school. We'll dig into the science of self-regulated learning, and explore the reasons it is challenging to facilitate at school. Have no fear, a mighty, simple, and feasible EF-supportive teaching protocol will be shared. This module perfectly compliments Chapter 3 of the book.

Module 4: Follow Up for the BSP (Barriers and Strategies Protocol)

In this final session, we'll discuss the use of observation, feedback and assessment to support your use of the BSP. We'll also dig a little deeper into some of the key mechanisms of self-regulated learning and motivation. This module perfectly compliments Chapters 4 and 5 of the book.
This four part series is active, fun, and interactive. These four high-impact POPS of learning perfectly compliment a whole-staff book club.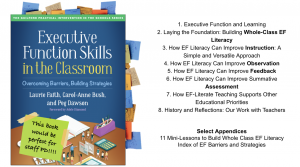 Option 3: 60-90 Minute Presentations
Get a feel for it. This active, playful visit is a toe-dip into the science of executive functioning. Is this the right move forward for your team right now? Find out.
Think online training might be too challenging? Take a look at this group of online trainees, below. We just completed a one-hour booster session to discuss whole class self-regulated learning support using the Barriers & Strategies protocol. We had a lively discussion, practiced using the technique, and laughed a lot. It worked really well. See how they are all holding up their hands? That's applause in ASL – this training took place at the Sir James Whitney School in Belleville, Ontario, and almost every single one of those educators is deaf or hard of hearing. We use used ASL translators and had a grand time.
So, uh, what's stopping YOU?