First, some key background…
Activated Learning aims to support the development of self-regulated learning and executive function in mainstream classrooms using a straightforward socially shared approach. It has been implemented in several Ontario school boards. Research results from the YRDSB AL pilot project were presented as the kickoff workshop at LDAO in 2020 by the Chief Psychologist and principal of Learning Services from the board. Then, in 2021, it was featured as the opening keynote. In 2022, a peer-reviewed book about the intervention for teachers, co-written with Peg Dawson and Carol-Anne Bush, was published by Guilford Press. You can read Adele Diamond's 750 words of preface to the book here, and you might also like to read about Dr. Diamond's extensive contributions to the field of neuroscience and executive functions. Finally, you can read  Laurie Faith's PhD dissertation, which explored how a socially shared approach such as Activated Learning functions, fits, and thrives in typical classrooms. 
Activated Learning Part I
There will be a free, virtual, public course held on August 14th from 5-8 pm in Toronto. This course is currently full.  
Activated Learning Part II Training
Receive small group support to troubleshoot your implementation! Over a series of short (30 min) small group sessions, you'll share challenges, victories, and questions, and receive additional information and resources. These sessions can be booked by clicking "office hours" and signing up for an early morning session. Doing four of these sessions, at least one week apart, will qualify you for Level II AL certification. 
---
Think online training might be too challenging? Take a look at this group of online trainees, below. We just completed a one-hour booster session to discuss whole class self-regulated learning support using the Barriers & Strategies protocol. We had a lively discussion, practiced using the technique, and laughed a lot. It worked really well. Notice how they are all holding up their hands? That's applause in ASL – this training took place at the Sir James Whitney School in Belleville, Ontario and almost every single one of those educators is deaf or hard of hearing. We used ASL translators and had a grand time.
So, uh, what's stopping YOU?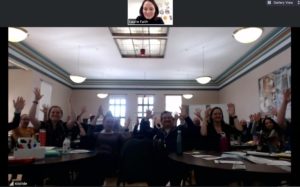 ---
Course materials for Level I training Day 1 can be found here.
Course materials for Level I training Day 2 can be found here.